Our mission is to provide meaningful work
and exceptional talent within the healthcare community.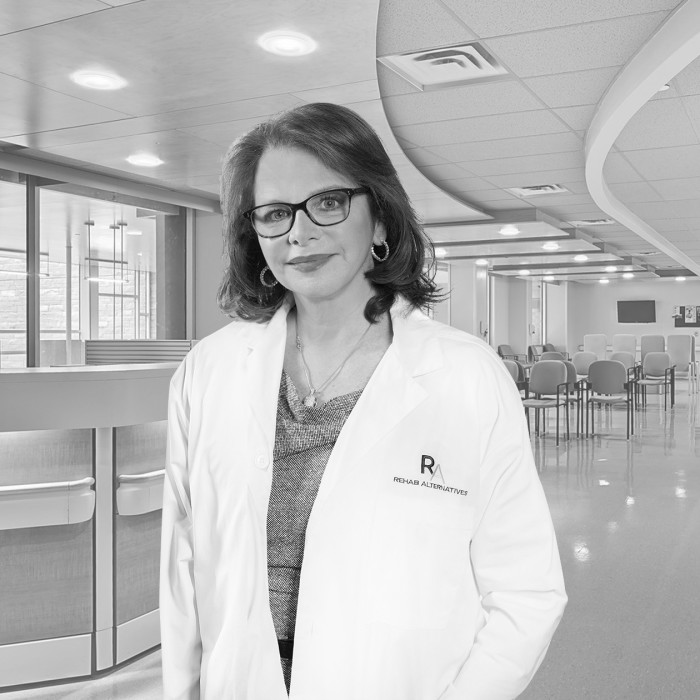 Susan Gursky, PT
Founder & CEO
In 2000, Rehab Alternatives was founded by Susan Gursky, PT to provide 'hands-on' clinical staffing services. Our approach has enabled us to become a leader and resource for facilities and clinicians alike.
In the past 15 years, we've worked with hundreds of healthcare facilities in the tri-state area, retaining our specialized focus in Allied Health. We're acutely aware of what it takes to manage and maintain skilled nursing facilities and rehab centers, while remaining sensitive to the softer skills required to thrive in homecare and public schools.
Sustainability and continuity of care start with strong, dynamic teams. We don't just fill a position – we seek to understand the dynamics; paying careful attention to the experience and background of our clinicians, matching them with the facility that will provide both skills enhancement and career growth.
Our Team
Bryan Gursky

Chief Operating Officer

Mary-Ellen Betterton

Director, Business Development

Susan Safran

Director of Staffing

Moses Walker

Senior Staffing Specialist

Irina Yakubov

Staffing Specialist

Lystra James

Compliance Specialist

Khadine Modest-Charles

Billing & Payroll Manager

Eleanor Darby

Billing & Payroll Specialist

Ray Jiao Feng

Payroll Specialist

Jessica Connelly

Homecare & Pediatric Advisor
Values
Loyalty.
We respect the dignity and individuality of every clinician, staff member, and patient. At Rehab Alternatives we are focused on promoting long-term reliability and teamwork at all levels.
Integrity.
A history of uncompromising care by professionals who share our commitment to healthcare.
Dedication.
We're committed to responding with a cohesive, solutions-driven approach to fulfill the needs of our clinicians, clients and patients.
Careers
We're hiring a Lead Generation Specialist to follow up and actively pursue qualify clinical candidates through social media, job postings an...
View Details
Apply Now
Nurse Pathways, a division of Rehab Alternatives is looking to hire a full-time Nurse Recruiter to recruit top-tier nursing professionals to...
View Details
Apply Now
We are seeking an Account Manager to oversee 6-10 Skilled Nursing Facility clients inmetro-NY. You will be responsible for all external comm...
View Details
Apply Now