The holiday season is upon us. No matter which holidays your patients celebrate, you can incorporate enjoyable activities to engage them while they receive rehabilitation therapy services. Let's get started!
Occupational Therapy
Wrap a gift.
This gratifying task can help patients work on finger dexterity and bilateral coordination skills.
Gather necessary supplies: wrapping paper, present, pencil, tape, and scissors.
Follow these quick and easy steps.
Decorate ornaments.
Have some tactile fun! Paint and decorate ornaments and hang them up on the department Christmas tree or on the walls. This also helps improve sensory processing skills. Here are some ideas.
Make holiday candy containers.
Arts and crafts are a great way to work on spatial relation and dexterity skills. Fill the containers with your favorite holiday sweets! Learn more about holiday crafts ideas.
Physical Therapy
Take a walk.
Walking is an easy and low impact exercise that allows seniors to stay active. Take a walk around the facility and count the number of holiday decorations you spot.
Deck the halls.
Decorate the facility, rehab area, or patient rooms with holiday décor. It's a great way to keep seniors mobile and involved. It also allows them to feel the holiday spirit while they're away from home.
Holiday exercises
Play holiday music with planned group wheelchair exercises. This improves gross motor skills and gets patients in the holiday mood. More ideas here.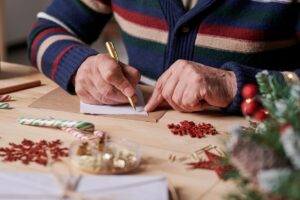 Speech Therapy
Write holiday cards.
Using art supplies, write greetings and messages for families, friends or caregivers. Decorate them too! This helps with fine motor skills and memory recall.
Make sweet treats.
Make a delicious holiday recipe. While cooking, you can practice sequencing, directions and fine motor skills. Bon Appetit!
Decorate a gingerbread house.
Creating and decorating a gingerbread house is an enjoyable and engaging group activity. It can also help improve speech-language skills. Group activities are also excellent for socialization.
Happy Holidays!