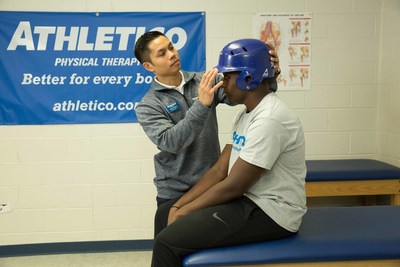 March is National Athletic Training Month (NATM), and Athletico Physical Therapy is using the month of awareness as an opportunity to educate athletes, coaches, and parents on tips for purchasing and wearing helmets.
According to the Center for Disease Control and Prevention, an estimated 3.8 million people suffer from concussions during sports and recreational activities each year.
This year's National Athletic Training Month theme is Your Protection is Our Priority. At Athletico, athletic trainers work with physical therapists to help provide comprehensive care for patients on and off-the-field. With that being said, Athletico's athletic trainers developed sport-specific helmet tips designed to educate parents and athletes on how to properly wear helmets that fit comfortably and provide the most maximum protection as possible.
Football players are not the only athletes that suffer from concussions. Baseball and softball players account for 45 percent of all facial injuries in common sports. By athletes wearing properly fitted helmets, one can significantly reduce the risk of head or facial injuries. Athletico's athletic trainers suggest that when selecting a batting helmet for baseball or softball you should:
Measure the circumference of the head, ½" to 1″ above the eyebrow to obtain helmet size
Ensure the helmet fits snug around the entire head
Make sure there are no gaps/spaces between the head and helmet
Do not wear anything such as a baseball hat under the batter's helmet
Ensure the helmet is not sitting too high or low by lining up the ear holes with the athlete's ears.
Confirm the athlete is able to see forward and side-to-side without obstruction
To ensure gapping does not occur, try the helmet on with damp or wet hair
Helmets are so important because they provide crucial protection for a variety of sports all year long. Athletico has also developed helmet fitting tips for football, lacrosse, and hockey. In addition, Athletico will increase awareness of the athletic trainer profession and showcase the value it has on preventing and treating injuries for an array of active individuals.