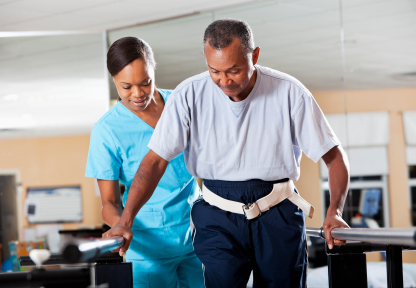 Healthcare facilities from all over and of all sizes use staffing agencies for their recruiting and hiring needs because they work. Whether these businesses are looking to hire temporary workers for short assignments; temp-to-hire staff to test the waters; or long-term, permanent, full-time staff; they know that staffing firms can be effective and highly beneficial.
As for job seekers, searching through an agency can take a lot of the weight off. Spending hours upon hours searching for opportunities, working on your resume, and applying for job openings can grow tiresome.  More times than not, all of this effort can go unrewarded without having any outside feedback about what you're doing right or wrong. That isolation can add a lot of stress and anxiety to an already nerve-wracking experience.
If the aforementioned points weren't enough to convince you that a staffing agency is the best route to take during your job search, then these benefits listed below just might:  
Here are three pros to seeking a job through a staffing agency:
Experience
According to Beshara, the average U.S. professional changes jobs every two and a half to three years. So that means a worker may go a long stretch of time before needing to engage in a job search. Staffing firm recruiters, on the other hand, live and breathe the job search process daily.
Beshara points out that within the period of time between job searches, the job market can change – sometimes drastically. "The staffing professional is current on exactly what is going on in the immediate market. They have a unique perspective that the job seeker will not have. The market for a particular skill or experience is never the same as it was three years ago. It isn't likely any job candidate is going to be aware of that change. So, the 'new' candidate may think that finding a job is going to be like 'last time,' but it's not."
A knowledgeable staffing professional can help navigate a job seeker through the market changes, so the job seeker is less likely to encounter any surprises or challenges along the way. "The experienced staffing pro doesn't give theoretical or abstract advice, but practical 'this is the way it is … this is what you should expect … this is what we should do' advice," Beshara says.
Insights
One of the often frustrating parts about job searching is not getting any feedback from employers as to why you aren't the right fit for a role. When working with a staffing firm, you get access to that kind of information, which can help improve your search now and down the line.
"Staffing professionals have insights that candidates can't get anywhere else," Beshara says. "Since the majority of us work with? the same clients and the same hiring managers over many years, we know what they like and how they like it, what they will hire and what they won't. Since we get to know them personally, we not only understand the job they are trying to fill but we know their personalities and personal likes and dislikes. We give those insights to our candidates to be sure both parties have the best chance of success not in just getting a job, but [in having] a long, solid employment relationship."
Confidential opportunities
According to a 2014 study conducted by CareerBuilder and Inavero, the attribute job seekers value the most in staffing sales representatives or recruiters is that they can find opportunities job seekers wouldn't be able to find themselves. Not only is that because staffing professionals are skilled at knowing which jobs might be the right fit, but it's also because they are privy to opportunities that job seekers wouldn't normally have access to.
"Because our clients trust us, they come to us with confidential job opportunities before they go to the general market," Beshara says. "We have access to the 'hidden' job market. Hiring authorities will often ask us to fill positions that even people in their own organization don't know about."
If you've been considering a staffing agency to help you find a career in Physical Therapy, Speech Language Pathology, Occupational Therapy, etc., Rehab Alternatives provides a plethora of resources to help job seekers do just that. Learn more about our services and jumpstart your Physical Therapy career.